"To allow the Demers families of today toget to know each other and to fraternize"
This is the primary goal of the Association. We want to stimulate the feeling of pride and belonging to our surname while highlighting exploits, events or projects concerning the Demers family members.ome of our elders have been members for more than 30 years.
However the "rejuvenation" of our Board of Directors is well underway and I invite you, and others from the X, Y and Z Generations, to help us maintain this momentum.
Beyond exploring our genealogy and history, we want to seduce you, and ensure that our Association resembles you. It is only through you that this can be done. To remain aware of our frequent publications informing you of our activities and/or news, follow us on Facebook.
Do not hesitate to write to us with your comments or suggestions.
I look forward to meeting you all soon.
Andrée Demers, President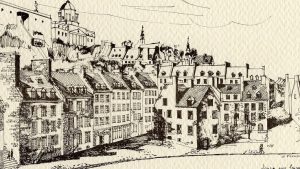 Participate in our annual Gatherings to stay in touch with your association and meet new faces. Read up with written accounts of previous events to stay in the loop. 
Visit our Boutique and if if you hav not done so yet, choose among many items  like our publications, our flags and insignia bearing our family crest.
Get to know your very extended family while discovering the history of our past six family generations and of our own Association, and if you are a new member, visit our archives tocatch up on past activities. 
Among our ancestors, as in most families, some individuals have marked history and it is fascinating to discover them while also getting to learn about our own ascendants and descendants.
Alain Demers, former President
I am very honored to become your first member of Hall of Fame and I will be pleased to contribute in ensuring the future of the Association.
Jacques Demers,
CEO, Les Serres Demers, Quebec
I learned so much about the origins, not only of my own family and ascendance, but about all of the Dumay/Demers.
Maurice Demers
Member 357